My son is on Fall Break. I loved fall break as a teacher. It came just at the right time, after long nights of conferences, and with report cards due right around the corner, fall break was a much needed R&R. My son woke up Thursday morning and groaned when he remembered he didn't have school. That was my evidence that he has finally adjusted to school and actually likes (dare I say loves?) it! He was truly disappointed. I asked him, what is your favorite part of school that you wish you could do today? Honestly thinking he was going to say gym or recess, I was quite surprised when he said "Centers!" Centers? I can totally do centers! I can do gym and recess too, but centers actually have some learning involved. It was time to brush off my teaching hat.
First, I asked him what his favorite centers were. Evidently they have a center called "Farmer's Market." I still can't fully determine what exactly they do at farmer's market, but I know there is a baby involved. I'm guessing it has something to do with role playing and perhaps they're shopping? Either way, our farmer's market was going to take place in the kitchen. He's got an excellent imagination, he could make it work. I even tried suggesting C could be his baby. He didn't like that idea so much.
He also wanted a lego center, science, writing, and coloring center. I convinced him to also have spelling, reading, and computers. He wanted me to make him a board with his name on it. Easy enough. I found clip art to represent the centers, printed, and laminated it. Yes, I have a personal laminator. I'm a teacher, you shouldn't be surprised. And it comes in handy way more than you would ever think.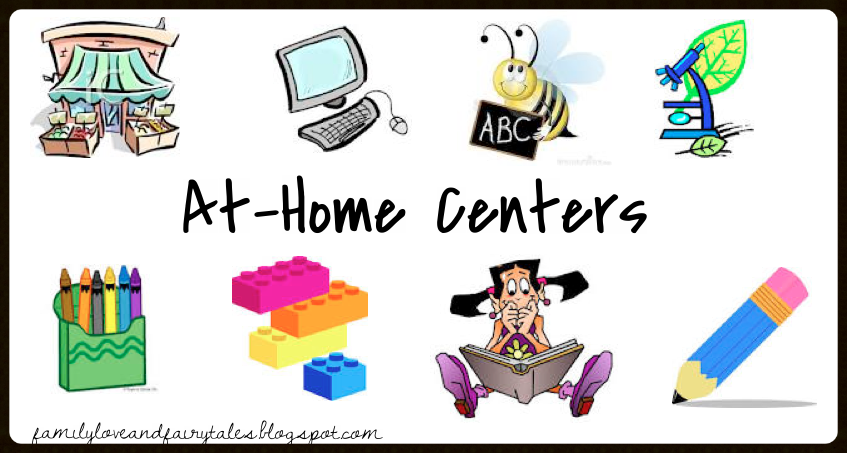 Center Board
The farmer's market, lego, and coloring centers were easy. I didn't have to prep anything; he has a lego table in his room and access to paper and markers. I took to Google for the spelling and writing centers. For spelling, I created a practice worksheet on
www.worksheetgenius.com
using his Kindergarten sight words. For writing, I printed Kindergarten blank lined paper from
Paging Supermom
. Because he loves to draw, I printed the show and tell paper with a space for drawing and blank lines for writing a sentence.
The Science center was the fun one! Of course,
Pinterest
has all kinds of great ideas, and I found this
Walking Water Experiment
from Coffee Cups & Crayons. As soon as we started the experiment, T says to me, "Oh, I know this one! We did this at bible school!" Of course you did. You all know I ask him to tell me about the things he does at school, and bible school for that matter. And because he's five, he doesn't always tell me. So, we did an experiment that he's already done before. But, because he's five, he didn't care.
I originally planned for about 10 minutes per center. Usually the rule of thumb is a kid can keep his attention on something for about one minute per year he is old, but I was pretty certain he could handle ten minutes per activity. Some activities he wanted to stay at longer, some shorter. We're on fall break, it's not school, I was ok with that. We had a great morning; he had fun and we squeezed in some learning! Overall, I would say very successful!