I have had the opportunity to experience Walt Disney World at Christmas time three times. The first time I went to Hollywood Studios to see the Osborne Spectacle of Lights. The second time, my son was 18 months old, and we spent about four days at Disney. This past year we went again as sort of a "last vacation as a family-of-three." We stayed on property for five days and purchased the Dining Plan. Of course, this was my favorite of all three trips. There is just something so special about Disney at Christmastime. If you can get past the crowds (I can, it is more difficult for my husband), it is truly magical. All three times we actually went after Christmas, so we have never gotten to experience Mickey's Very Merry Christmas Party. Maybe one of these days we will make it down before Christmas (and before the crowds). That's the curse of being a teacher, we can't travel during off-season. The Fast Pass + helped us a lot with the crowds. We have been to Disney so many times that I knew which rides we would need Fast Passes for and which we wouldn't. I also knew which rides were "must-do" for my son. We booked pretty late, but we were still able to get dining at most of the restaurants that we wanted, and we were also forced to try some new restaurants as well. We ate at Biergarten in the Germany pavilion at Epcot and the dimming of the lights while entire restaurant sang
Silent Night
together was truly something spectacular.
While it's tough to choose a favorite, I would have to say my favorite park at Christmas is Hollywood Studios. The Osborne Spectacle of Dancing Lights is something that everyone should see at least once in their lifetime. It was so fun watching my son see it when he was 18 months old, and even more fun watching him see it as a five-year-old. We had a lot of fun walking through and trying to count all the hidden Mickeys. I can't remember exactly, but I think we found almost all of them!
To see Cinderella's castle lit up for Christmas is absolutely breathtaking. This past week, Disney lit the castle for the season and seeing pictures of it gave me chills. That's just in pictures! Seeing it in person is even better! The Christmas parade is also fun to watch because it's something different from the Electrical Parade that we have seen so many times before.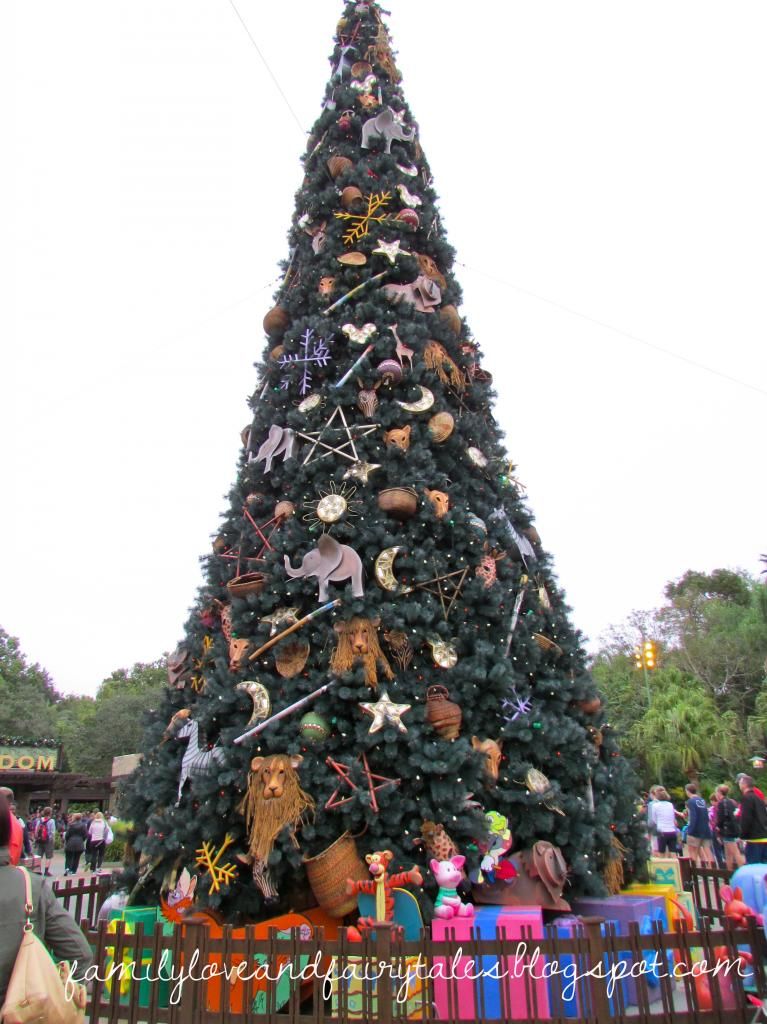 Christmas Tree at Animal Kingdom
One thing that I really wanted to do this time was resort-hop to see all of the decorations. The Grand Floridian was beautiful, as always, and they featured a magnificent life-size gingerbread house. The Beach Club Resort had an incredible gingerbread carousel. Each resort also featured Christmas trees specific to the resort theme. For example, a Christmas tree at the Polynesian featured hibiscus flowers. I think my favorite Christmas tree, though, was at the entrance to Animal Kingdom. The animal-themed ornaments were amazing.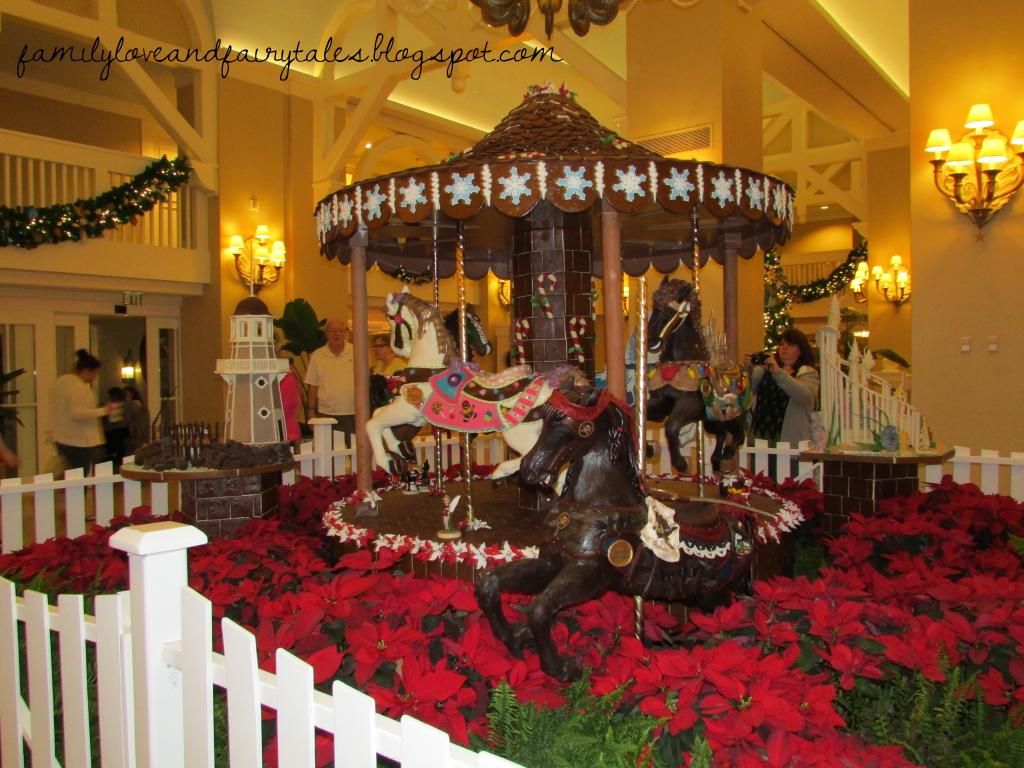 Gingerbread Carousel at Beach Club Resort
Due to the crowds at Christmastime, this is the perfect occasion to experience Disney in ways you may not have before. There is so much more to Disney than the rides. While I personally love the Hall of Presidents, not many people do, so remove yourself from the crowds for a bit and take in a little history. We also explored Tom Sawyer Island, which we have skipped many times in the past. While my husband and son rode Star Tours for the umpteenth time, I took the opportunity to view the "One Man's Dream" exhibit about Walt Disney.
I highly recommend everyone go to Walt Disney World at Christmas at least once in their lifetime. If you're like me, you'll be hooked. I can't wait to go back in a few years and take baby girl. (Don't tell my husband, though....)
Our family at Magic Kingdom